PARTNERS IN DESIGN: SAPER GALLERIES WITH ROY SAPER
By McDaniels Kitchens and Bath, Lansing, Michigan
March 2, 2023
Our 2023 Partners in Design series continued in February with a fascinating event with Roy Saper of Saper Galleries and Custom Framing.

We were very fortunate to welcome Roy to our Lansing, MI showroom for this event, where he shared his extensive knowledge and insights into the art world with our participants. Everyone walked away inspired to seek out art and with a better understanding of the value of the art we purchase and already have in our midst.

All About Saper Galleries
The Lansing community is very lucky to be the home of Saper Galleries, which is a world-renowned, award-winning gallery that serves art collectors from around the world. For 44 years, Saper Galleries has provided a reliable, honest, and quality service to thousands of art collectors. They own and inventory more than 1500 original works of art by 150 artists from 15 countries, which are available to view and purchase.

Their beautiful building houses a museum-like gallery, and they have been in this building for the past 36 years making it a landmark in its East Lansing location. They have updated or added to this building over the years, including a 2,000-square-foot west gallery added in 1998 that was highlighted in the June 2000 issue of Art World News. Saper Galleries prides itself on providing top-quality art for everyone's tastes and at every budget level. The art styles they showcase range from traditional to impressionist, contemporary, and more.

Saper Galleries and Custom Framing also offers a superior, professional framing service by experts with degrees in art and training in design and color. They have been helping Michigan clients with their framing requirements since the 1970s, and they strive to make the framing process easier for clients by sharing their knowledge and expertise. Their team has the highest regard for preserving the artwork, photographs, and other memorabilia to be framed. Saper Galleries is the only Greater Lansing member of the Professional Picture Framers Association.

The Saper Galleries team is called on to present at national and international conferences, so we were very excited to have them present in our Lansing, MI showroom! Roy Saper is passionate and enthusiastic about art, and his presentation at our event on February 21st was amazing. Roy taught us how to recognize art originals, fakes, and copies. He also helped us understand the value of the art we intend to purchase and that we already own. Roy also taught us how to ask the right questions when purchasing art, having it preserved, and framed.

We could have Roy come back every month to share his encyclopedic knowledge of art with our participants!
---
A tour of Lansing-area Black art collections
TAYLOR BLAIR FOR LANSING CITY PULSE
Thursday, February 16, 2023
[Excerpted...] In East Lansing, the Shona people's art is represented in a dedicated gallery exhibit at Saper Galleries and Custom Framing, opened by Roy Saper 45 years ago. Saper champions the gallery's ability to bring awareness through art from all over the world and from different ethnicities. A team of one, Saper makes the decisions on the exclusive inventory and, after hundreds of submission reviews over the course of any given year, accepts under 1%. He also attends international art expos to discover unique pieces.
The gallery holds serpentine stone sculptures created in Zimbabwe by the Shona people. An example includes "Dancing Family of 3," by Francis Chikowore, a 13-inch-tall, hand-carved cobalt stone sculpture of three intertwined people. Saper said the Shona people value
ukama
, a term that represents the concept or state of togetherness and kinship.
"There's nothing more precious than family, and the tribe expresses that," he said.
Saper also showed off a sculpture series of Black figures dressed in natural materials such as fur and beads made from coconuts. It was created by Roberto Hollanda, a Brazilian artist that aims to unite the country's three identities (African, European and Indigenous). Lastly, he introduced Mathias Muleme, a Ugandan artist whose pieces he first purchased back in 1992. Currently, Muleme's work at Saper Galleries includes the recently sold, "Ring Around 06," an embossed etching of six children and an adult in motion underneath the sun, like the playground nursery rhyme "Ring Around the Rosie."
[The full text of this article is
here
.]
---
East Lansing considering collaboration with Artspace on affordable housing for creative types
By: Mikayla Temple, WSYM Lansing Fox 47 News
September 30, 2021
Click photo to view interview with Roy Saper and see Saper Galleries highlights!
---
Saper Galleries displays for-sale inventory online with live chat feature
By:
Lauren Shields
https://www.fox47news.com/news/east-lansing/saper-galleries-displays-for-sale-inventory-online-with-live-chat-feature
November 30, 2020
Click photo to view Fox 47 interview
Downtown East Lansing art gallery aims to be as responsive as possible to what their consumers want, including bringing its extensive art collection to their homes and answering their questions via live chat.
Saper Galleries, an art gallery in Downtown East Lansing, has listed all its 1,500 works of art—by 150 artists from 15 countries—on its website, organized by artist name, for a user-friendly consumer experience. Owner Roy Saper says that it has taken years to list everything.
"We started some time ago, but now actively, on really a daily basis, we are adding more and more to our website. We're also engaging with social media to share with people new additions to the gallery as they arrive, which happens every single week," Saper says.
Saper and his team have been on the forefront for many years, he says, using technology to share his inventory with consumers, not only in his community, but throughout the world.
"We package and ship the works out that day, so they can be received literally tomorrow, anywhere in the world, and we do that continually every single week from visitors throughout the country and beyond," Saper smiles.
Now, especially considering the rules and regulations regarding COVID-19 safety, art-lovers can view pieces from the comfort of their own homes. On sapergalleries.com, one can search by artist, find descriptions and sizes of each piece of art and now also ask questions 24 hours a day, seven days a week.
"So, if you're at home and it's past midnight and you have a question about a work of art, just hit the live chat link and you'll be chatting with someone, and it very well likely will be me, still up at that hour, adding works of art to our website," Saper says. "We'll answer questions immediately that way or by email."

The inventory at Saper Galleries has been hand-selected by Roy Saper himself, and there are a large number of works for sale that are well under $100, he says. One can also find local artists on the Michigan Collection page of the website, which features at least a dozen artists within an hour or so drive from the gallery.
"Our focus is on quality—works of art that people really would enjoy displaying in their own home. We don't buy someone just because of their name," Saper says. "We only acquire works of art by people who create works of art that I'd enjoy having in my own home."
The driving force for this art collector is to make his consumers' experience as efficient and enjoyable as possible, whether the art is for the consumers themselves or a gift for a friend or loved one this holiday season.
"We're trying to be as responsive as we can to what a consumer would want, and if a consumer is at the computer at the early hours of the morning, then we want to be there for them so that when others are waking up, we're packaging a work of art and we're running it to a local carrier to get it to your home, and, if desired, we'll put it in our car and drive it to your front porch," Saper says.
Although the art is online, Saper says one can still safely visit the physical gallery Monday through Saturday, The parking for the gallery is free.
---
Spend Locally: Saper Galleries and Custom Framing

BY SARAH SPOHN

https://eastlansinginfo.news/spend-locally-saper-galleries-and-custom-framing/
November 30, 2020
Trinket boxes and vases from Saper Galleries and Custom Framing that would make wonderful holiday gifts.
If you've got a hard-to-shop for person on your Christmas list this year, check out Saper Galleries and Custom Framing. The world-renowned, award-winning brick-and-mortar art gallery features an ever-changing inventory of art displays and custom matting and framing services.
Gallery Owner Roy Saper prides himself on his business being a one-stop-shop for unexpected, unique gifts. "A beauty of artwork as a gift is that it is not consumed or put away and forgotten, but rather is displayed, viewed, and enjoyed every day, forever," he said.
Saper created a cheat-sheet of his top five gift ideas in the store, including hand-blown glass vases from Hebron in the Palestinian West Bank. "From this region of difficulty comes the beauty that we are displaying at Saper Galleries and that hundreds have purchased as gifts and for themselves to view always," Saper said.
Other popular hand-blown glass vases and pitchers come from Californian artist Rick Hunter. Michigan-themed art is always a favorite, with prints and paintings of Michigan artist Kathleen Chaney Fritz – whose work is filled with lakes, dunes, and Mackinac Island. Wooden boxes made of cocobolo wood from Costa Rica, including nested boxes make the list, as well as hand-painted, wooden boxes by Brazilian artist Monica Martinez.
Gift certificates for professional custom matting and framing services make a unique gift for those with photos, letters, art, awards, and memorabilia in storage. Since Saper's been around since 1978 and seen many other galleries come and go in that time, the business has years of testimonials, customer referrals, and handwritten thank you cards from happy customers, who Saper now calls family.
"Every student who wrote me a thank-you note for a presentation I gave to their class may be happy to know that not only did I read each of their letters, but I have them all saved as they are precious gifts that I appreciate and value," said Saper. "Just as I do every single transaction that we've had here – the many tens of thousands of works of art and framing services we've provided to people throughout the globe."
Saper Galleries and Custom Framing is open Monday-Saturday from 10 a.m. to 6 p.m. with free parking at the rear entrance (433 Albert Avenue). Customers can preview a majority of the inventory on
their website
and purchase orders over the phone or via email. Same-day service is provided for shipping orders, and curbside pickup is also available.
---
Lansing City Pulse
Aug. 24 2017

Reality Captured Saper Galleries displays hyperrealistic artwork
When I walked into Saper Galleries on Monday, Roy Saper, the gallery's owner, was wrestling with an elegant Eames Lounge Chair, positioning it under a skylight to watch the solar eclipse. He welcomed me, and for about 20 minutes, we sat there and watched the moon pass across the sun. Then he suggested we look at something almost as beautiful and almost as rare as the natural phenomenon we'd just observed: Saper Galleries' newest collection of hyper-realistic oil paintings.

"They're just like the eclipse: you just look at them and marvel," said Saper about the paintings of Manuel Higueras, Carlos Bruscianelli, Almunia de Miguel, Juan Carlos Ospina Ortiz and John-Mark Gleadow, the five hyperrealist artists on display at Saper Galleries.
"It's that exacting level of precision that makes hyperrealism so amazing," said Saper as we looked at one of Higueras' oil paintings entitled "A Bunch of Grapes Plus One," depicting a group of grapes so realistically that it could be a photo.
"It highlights every little detail, even the imperfections," said Saper, and those imperfections are exactly what makes these paintings so realistic.
"One might say, 'just do a photograph,'" said Saper, "but it's not a matter of if you can paint something that looks like real life, but can you make it feel like real life? It's a level of realism that goes beyond a photograph."
As we made our way deeper into the gallery, Saper stopped at a painting by Bruscianelli depicting a glass vase full of fruit.
"It feels like you could reach into the pitcher and grab a piece of fruit," marveled Saper. "But then you realize this is a two-dimensional painting."
But don't just take Saper's endorsement — even the U.S. government thinks Bruscianelli is a world talent.
"Carlos Bruscianelli has been attempting to emigrate to the United States from Caracas, Venezuela, to paint," said Saper, referencing the recent turmoil in the painter's home.
"After many months of negotiation, Bruscianelli has just obtained a work visa to come and paint for Saper Galleries," Saper said. "In fact, our federal government has said he's so good that we want him in our country," he said, producing a copy of Bruscianelli's emigration papers saying just that.
We walked on and examined the paintings of Gleadow that depicted faux-photographic oil renditions of book spines arranged neatly in a row.
"These are so good that a lady was in the gallery and she said she wanted this painting," said Saper, pointing to a piece depicting ragged, used book spines. "And she said that this one had a flaw in it."
Of course, there was no flaw, just an illusion created by paint and brush.
But still-life paintings have been around forever, it's a near ancient tradition, with origins in ancient Egypt and Greece. Still, Saper said that artists are revamping this age-old tradition.
"Artists are kind of doing a circle; they're coming back," said Saper. "In the last 70 years, we've been moving away from still-life, hyperrealism and classical painting — there's more abstraction today."
And as Saper pointed out, much of art history had been dedicated to realism, with abstraction only becoming popular in the late 1800s. Today, realism often takes a back seat to different forms of Expressionism. Paintings like those Saper is highlighting, paintings that hearken back to the High Renaissance when realism reigned supreme, seem to be out of fashion today.
"But now we're seeing artists that were trained in this classical style say it's okay to paint like this again," said Saper. "Now we revere these hyperrealistic paintings as something new, but people were painting like this in the 1400s and 1500s. There are ebbs and flows in a lot of aspects of culture, this being one of them."
As I finished up my tour of Saper Galleries, Saper made a joke about how eclipses are rare, but finding artists with this sort of extraordinary talent is even harder to come by.
"Hyperrealism" Through November Monday - Saturday Saper Galleries and Custom Framing 433 Albert Ave., East Lansing (517) 351-0815.
40 Years of the Saper Galleries: Art and Technology
By JAMIE PAISLEY • MAY 28, 2018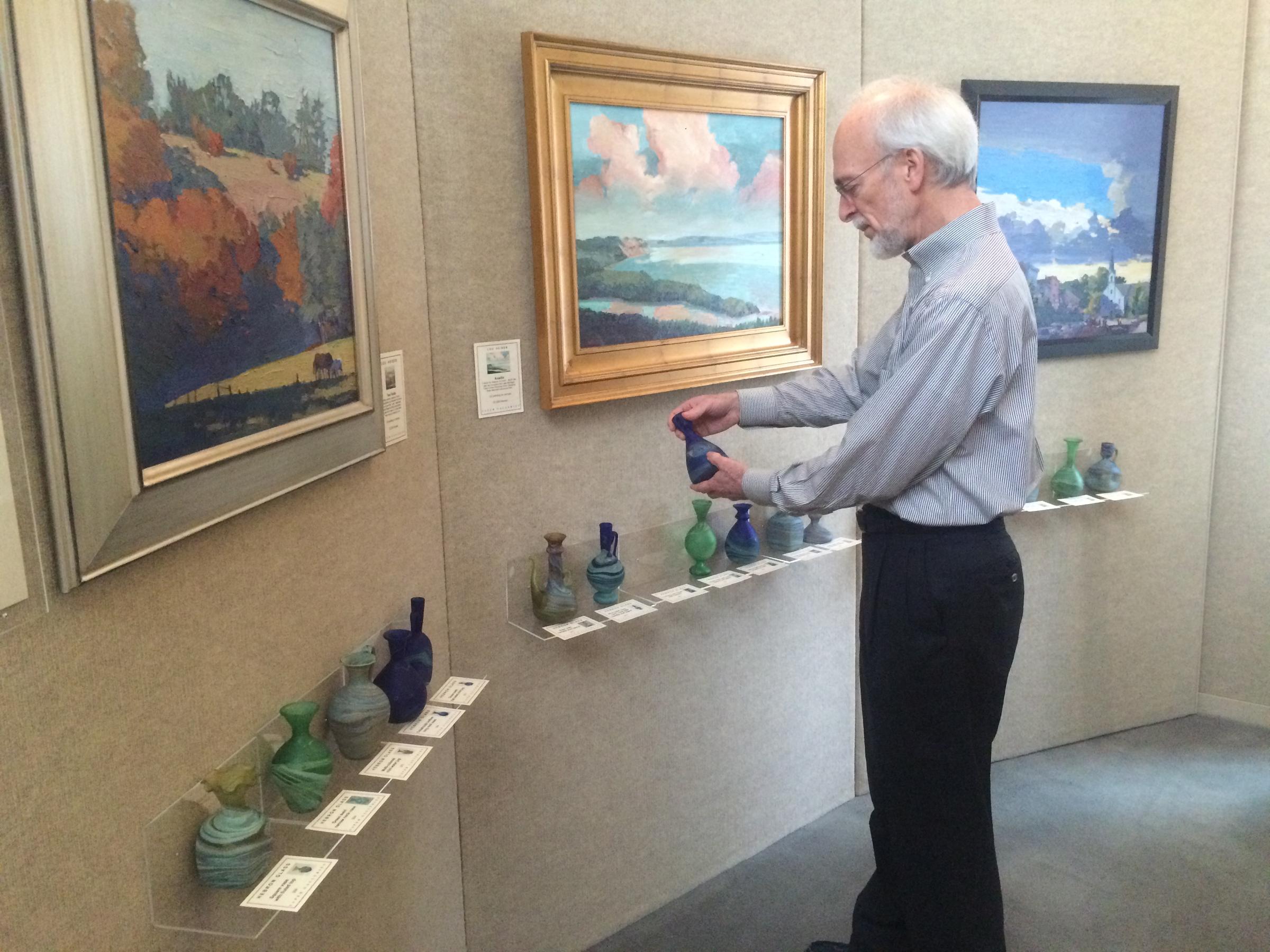 KATIE COOK
/
WKAR
For many businesses, hitting one full year can be a big milestone. WKAR's Jamie Paisley sat down with one owner who just reached 4 decades of operating in

East Lansing

: Saper Galleries.


Listen to the interview here.
Roy Saper has been bringing art to East Lansing for 40 years. It began when he was in his 20s running a new business out of his home in downtown East Lansing on Bailey Street way back in 1978, but even though many Art Galleries fold quickly, Roy's grew and eventually needed a change of venue.
"In 1985 is when I bought this land." recalls Saper. "Interestingly, it was owned by Butterfield Theaters, who owned in downtown East Lansing, the Campus and the State Theatres, they owned this land. [A] vacant parcel in downtown East Lansing at the corner of Albert and Division so that nobody would build a movie theatre here. So, I drove to Southfield, I believe it was, and met with the owners of Butterfield Theaters and they quoted me a price for this land that was three times as much as I paid for my Bailey Street home. and I said "yes." And so I came back to the lot after I bought this and the weeds were growing across the sidewalk. And there were posts around the perimeter of the land- peremeter of the property. There were dead trees on the lot. But I went from there with this imagination of a contemporary-looking, really clean, really nice building with a lot of light."
Though the newly relocated Saper Galleries did have a weakness. An outdoor sculpture garden which left some items vulnerable to purloining.

'Wait. Hey, where's that 7-foot tall sculpture that weights hundreds of pounds?' And that's when I realized. - Roy Saper

"It was crazy. I'd come in in the morning, I'm looking out the window into our courtyard, and thinking, 'Wait. Hey, where's that 7-foot tall sculpture that weights hundreds of pounds?' And that's when I realized." says Saper, about the robbery. "So, to handle that, I spent more than a quarter-of-a-million dollars to enclose that courtyard and expand it. Make it a little bit larger. And I'm glad I did, because it brings, with the lighting that we have, it brings the outdoors in. So, you almost feel like you're outdoors. There're plants, it's beautiful location and it's a beautiful venue for viewing art."
After his youth in Flint, Michigan, Saper came to MSU in East Lansing where he eventually began studying computer science, a burgeoning field in the late 60s and early 70s. . But his love of art collecting shone through and Saper was an early adopter of digital pricing algorithms and cataloging. A key to Roy Saper of his 40 years in business.
Technology is the only way that business today can survive. No matter what business it is and we're proud to always be on the cutting edge - Roy Saper
"We were the first gallery, I think anywhere, which used the computer in a way that we still do and more galleries now do." say Saper, proudly. "Now we know every day what countries have visitors on our website and what they're looking at. Technology is the only way that business today can survive. No matter what business it is and we're proud to always be on the cutting edge of that and that's observed by those who find Saper Galleries, even though they might not be able to place Michigan on a map."
Because of its location, just north of MSU, there is a lot of student foot traffic who may have never visited a gallery before and have that deer-in-headlights look just walking into the building.
"I'll tell you what it is: There's this sense of awe and discovery when they come in." says Saper of the wandering MSU students who first encounter the Galleries as a museum of sorts, but with pricetags. "They look around, there first comment it 'I had no idea this place was so large in size.' Its deceiving from the outside. You see a little door. You see a brick wall, but when you come in, it *is* large and when an 18-or-20 year old comes in, often times they look around. They rush out and then about 5 minutes later, they come back with 2 or 3 friends. That's a sign of success as far as I'm concerned."
Last week,

Saper Galleries

and founder Roy Saper celebrated turning 40 years old. You can swing by and check out the hundreds of works of art in their
East Lansing
building found on the northwest corner of Albert and Division.
East Lansing working to continue support of local art galleries
By McKenna Ross
Photos by Nic Antaya
December 8, 2016
The State News, East Lansing, Michigan
East Lansing resident Roy Saper poses for a portrait on Dec. 6,
2016 inside of Saper Galleries and Custom Framing at 433 Albert Ave. Saper opened his gallery in 1978 and said, "Saper Galleries provides a resource for everyone who might have (or) who has an interest in art," and that his gallery sells art to clients all over the world.
Tucked away in downtown East Lansing, surrounded by housing and a comic book store on Albert Avenue, stands Saper Galleries — one of several art galleries downtown aiming to bring art and culture to the city.
Roy Saper, the proprietor of the gallery, started his business in 1978 after graduating from MSU. The 6,000 square-foot gallery exhibits work from 150 artists from more than 15 countries with 1,500 pieces of inventory, meaning there's something for everyone.
"We pride ourselves in that we have artwork for literally everyone," Saper said. "There's not a person who would come in here and not find something they like. And (we're) affordable — we have a ton of artwork that's under $100."
Pieces in the gallery range from oil on canvas and pencil sketches to hand-blown glass and wood construction. Saper contributes his success to all the options of art in the gallery.
"It's a broad range of imagery," he said. "We've found that the clientele that we have is very supportive of this gallery which is why we've been here for nearly four decades."
With only three people on staff, Saper said he works night and day before exhibitions to ensure they open smoothly. He said it's worth it, though, to see the community appreciate the artwork.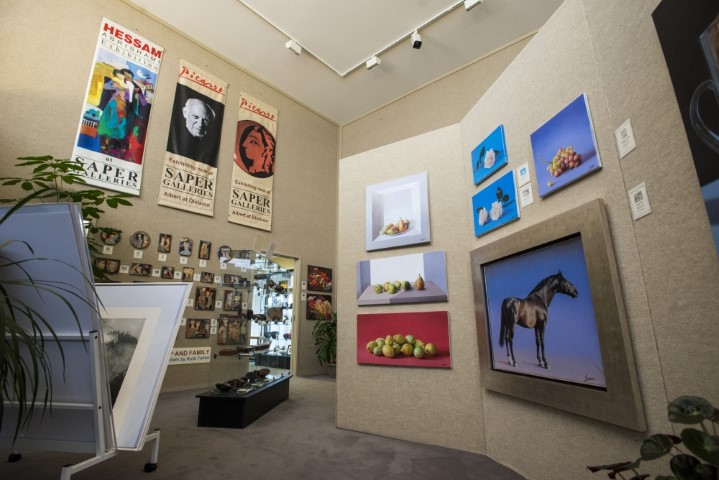 Various pieces of art are pictured on Dec. 7, 2016 at Saper Galleries and Custom Framing at 433 Albert Ave. The gallery has numerous windows that allow for the gallery to be illuminated by natural light.
"We like being, and we are, a community gallery," he said. "A gallery for the people, for the community. That's been evidence from the shows we've had and the response we've had to those exhibitions. Around 7,500 clients and they're very supportive of the gallery, which is nice. We're in it for the long haul."
East Lansing has made an effort to be a community welcoming to art. The city has ordinances requiring large projects to dedicate 25 percent of its funds to art, and frequently hosts art and music festivals throughout the year.
City Manager George Lahanas said another way East Lansing supports the art scene is by collaborating with MSU on (Scene) Metrospace, a gallery downtown.
"We split the operation and the costs," Lahanas said. "They control the content, and we offer free space and some utilities."
Still, East Lansing's art scene faces some challenges. Deb Cholewicki, the gallery manager at Grove Gallery and Studios, said it can be hard to make a mark in the city.
"I think overall, a lot of the community doesn't really get what arts and culture is and that's starting to change, which is a good thing," Cholewicki said. "The other challenge is that we have a huge student population. That's very transient, people are coming and going. Students don't typically have a lot of money to come and buy art."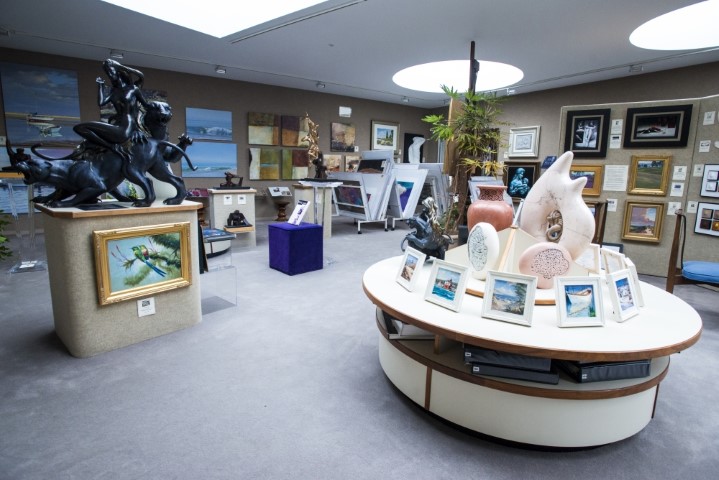 Saper agreed. He said when he built his gallery in 1986, he thought he would start a trend in downtown.
"We have a dearth of galleries," Saper said. "When I bought this vacant parcel of land with nothing on it except a path that went through from Division Street to Albert, my belief was that between here and the Marriott, I thought all these buildings would turn into art galleries. I thought we would start something and all these others would come in, but it's not easy to run an art gallery."
When Grove Gallery opened eight years ago, it aimed to add to the art scene. Cholewicki said she thinks it has helped.
"I think it's constantly evolving and growing," she said. "I think that every year sees more momentum building for the excitement around the arts."