His full name was (are you ready?!)
Pablo (or Pablito) Diego Jose Santiago Francisco de Paula Juan Nepomuceno Crispin Crispiniano de los Remedios Cipriano de la Santisima Trinidad Ruiz Blasco y Picasso Lopez. We know him today as simply Picasso.

His father, also an artist, was José Ruiz y Blasco; his mother was Maria Picasso y Lopez. His earliest paintings were signed Pablo Ruiz after his father, but around 1901 he started using his mother's name, Picasso.

Picasso was born in Malaga, Spain (in 1881) but spent much of his life in France (although his French speaking never really sounded like the native Francophiles). Picasso is recognized as the most important artist of the 20th century and he certainly was the most famous artist, earning riches and acclaim during his own lifetime, unlike so many other important artists such as Van Gogh who sold only one of his paintings during his lifetime.

When putting together this Saper Galleries exhibition it became evident that many were not sure exactly when Picasso lived (some guessing hundreds of years ago) and most were not familiar with much of what he did (except for paintings that were not quite the norm). A major intent of this exhibition is to bring light to aspects of Picasso's life and show what he did and why through the display of 5-dozen of Picasso's original graphics and ceramics from May 7 - July 2, 2006.

Picasso was in the news most recently for the sale of a 1905 oil painting titled Garçon à la Pipe (Boy with a pipe) at Sotheby's auction house on May 5, 2004. What was the selling price for the early Rose Period canvas, painted when Picasso was 24? Including buyer's commission it went for $104.168 million. At 39 x 32", that computes to more than $80,000 per square inch which just goes to show you that not everything in the art world is going to be easily explainable or understandable. On May 3, 2006 Picasso's portrait of Dora Maar sold for $95.2 million. An etching of her is in this exhibition.

Incidentally, the Whitney's who bought the painting in 1950 paid $30,000 for it which at today's prices would be worth about $230,000.

One of the more famous paintings that Picasso created was "Guernica", painted in 1937 for the Spanish Pavilion of the 1937 International Exposition in Paris. The large canvas in shades of gray depicted the inhumanity, brutality and hopelessness of war. The painting was Picasso's response to the German's blitz of the Basque town of Guernica during the Spanish Civil War. Picasso exaggerated the depictions of the figures within the painting to strengthen the conveyance of anger that the painting elicited.

After Francisco Franco died in 1975 it was expected that the Spanish people would enjoy "public liberties and democratic institutions" and the large mural could be sent to Spain. After 40 years at the Museum of Modern Art in New York, Guernica is now displayed at Spain's national museum.

Picasso did not believe he should explain in words what he was conveying as then he could have just written his commentary rather than paint it. He also felt the painting was never truly completed. It was up to the viewer to take over from the artist and allow the imagination to interpret what was viewed.

Picasso was trained in a classical style and, as a very young artist was recognized for his tremendous talent. His early figure studies were precise and with excellent control. In fact, he was so talented that Picasso's artist father stopped painting as his child was so much better.

As a young teen, Picasso's family moved from Malaga to Barcelona, Spain where the young artist studied at the academy of fine arts. His first exhibition was in 1900.

He traveled to Paris several times over the next few years and is known for his Blue Period paintings (1901-1904), the sad paintings a response, in part, to the death of his good friend Casegamus who took his life after being spurned by a girl, who Picasso became involved with soon after. The Blue Period paintings reflected the sadness that Picasso experienced (he was poor and facing many challenges as a young, ambitious artist) but he also saw sadness and loneliness about him, all subjects for his art.

In 1904 and 1905, after visiting the circuses of Paris his paintings displayed a more joyful tone and the Rose Period paintings often reflected a change in attitude by the artist. Harlequins became a theme that Picasso would paint repeatedly in pinks and rose colors. It was with the Rose Period that Picasso experienced his first loves.

One of he most pivotal works that Picasso created was his eight-foot tall

Les Demoiselles d' Avignon

in 1907. Highly influenced by the African and Iberian art Picasso saw, he created this new painting with cubist elements and angularities and harshness that had not appeared in paintings before. Although Picasso had many critics, it was clear that Picasso was on the verge of becoming a significant force in modern art by virtue of his unique vision and uncanny ability to see things with an eye unlike any other before him.

Many people heard of Cubism but are not sure what it is or was. In 1910 Picasso developed a new means of pictorial expression unlike any before him (although Georges Braque was working in the same direction at the same time). Picasso deconstructed objects into their components so that different viewpoints are juxtaposed and seen in one plane. A conceptual image rather than perceptual image on an object was created through this analytical cubist presentation. You will observe in this exhibition many objects which are viewed from multiple vantage points. You will see a vase or vessel from both the bird's eye view, the frontal view, and perhaps a side view -- but all in a single plane. That is what Cubism put on the easel of 20th century art. You will see in this exhibition images of figures from multiple vantage points but all from a single view. Such was the essence behind the deconstructive aspects of Cubism.

In 1912 Picasso took Cubism one additional step when he added collaged elements to his paintings, creating three-dimensional constructions and opening an entirely new path for exploration of modern art of the future.

At this time Picasso was unquestionably the most famous living artist. He was also known as the most revolutionary painter and sculptor of the 20th century. It is obvious that he had little respect for conventions and habitual ways of conveying visual experience.

After the first World War Picasso reverted to a more classical style while still pushing Cubism into new paths. Although he became connected to the Surrealist movement he intentionally remained distant from "joining" any school of art throughout his career.

By the 1930s Picasso was acknowledged to be the most famous artist in the world. The women in Picasso's life were a strong inspiration to the imagery that he would paint and catalog for the next 40 years. Picasso painted on the back of his canvases the exact dates of their creation, documenting autobiographically his life through his art. He even indicated the order in which multiple paintings might have been completed in a single day.

Picasso was most prolific in his later years, often completing several paintings in a single day.

Picasso's art was so radical early in the 20th century that there was no artist who could escape his influence. He continued to be an innovator through his last years, providing a basis for so much of the art that is created by those who followed him.

Even a casual glance at Picasso's work shows his capacity to awaken our emotions and help us gain a deeper understanding of our human condition. To those who wish to appreciate his work more deeply one simply needs to open his eyes to the richness and diversity of the artist's vision and enjoy the audacity that he employs to awaken our senses to see the world about us.

Picasso, during his life, successfully sold enough of his art that he didn't need to sell what he created. When he died in 1973 he left more than 50,000 works of art of all media and from every period of his career. Picasso died without a will, leaving much of his art to the French government to satisfy tax obligations. His belief was that preparing a will was effectively willing to die. And he wanted to keep going, as he did, creating art for more than 80 of his 92 years.

Pablo Picasso changed the face of modern art. He inspired others with his passionate images, creative intellect and brilliant vision.

It is with this introduction to the artist that we invite you to enjoy the Saper Galleries exhibition,

Picasso: Original Graphics and Ceramics

.


Picasso Self Portrait, 1896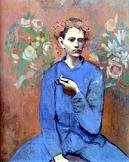 Garçon à la Pipe





Guernica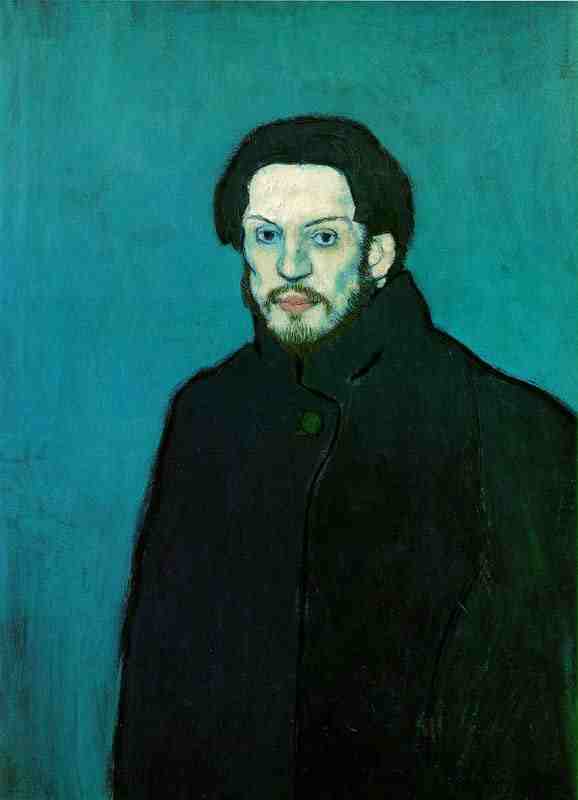 Blue Period Self Portrait






Rose Period Harlequin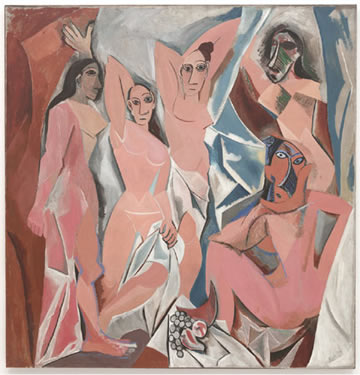 Les Demoiselles d'Avignon






Girl with Mandolin (Cubism)






Italian Girl (cubist collage)






Picasso's final self portrait, 1972






Picasso