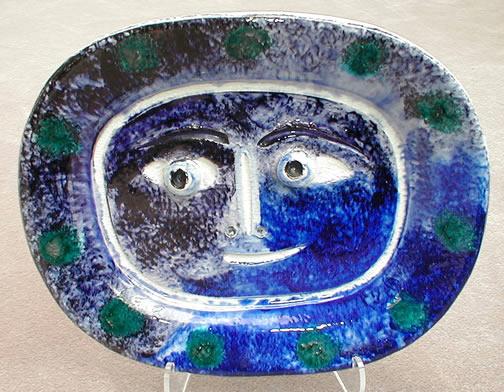 This rectangular ceramic dish titled
Brown Blue Face, 1947
is of white
earthenware clay, with decoration in engobes, engraved under glaze. The ceramic is from an edition of 200 and is stamped both Madoura and Edition Picasso on the bottom.

It is illustrated in the Madoura catalog as item number 2.


On May 15th of this year Françoise gives birth to their first child, Claude.

In August, 1947 he returns to Vallauris, at the Madoura pottery that he had visited the prior summer. He begins his intensive activity as a potter, creating some 2,000 ceramics over the next year, embodying form, technique, and the use of colors.

This activity led to a revitalization of the ceramics industry of the town which was in a state of decline since World War I.

In the fall of 1947 Picasso is writing a play and creating sets for theater.