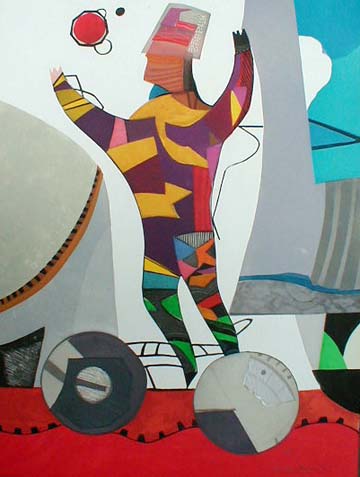 Cyclistes
Original etching with carborundum
Paper size: 26 x 20"
Signed by the artist
Numbered 145/150
$1,600 framed



Jeune Fille
Original etching with collage and carborundum
Paper size: 26 x 20"
Signed by the artist
Numbered 46/90
$1,100



S Rouge
Original etching with collage and carborundum
Paper size: 20 x 26"
Signed by the artist
Numbered from the edition of 90
Sorry, sold for $1,100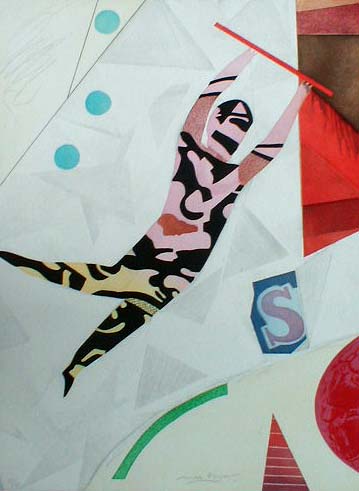 Trapeze
Original etching
Paper size: 26 x 20"
Signed by the artist
Numbered 58/75
$1,100

Max Papart's paintings and graphics are suffused with sunny humor and the bright colors of the French Riviera where he was born. Working in the cubist style, he depicted circus scenes, flirting couples, soaring birds and similar cheerful subjects with flat, overlapping planes of contrasting colors and textures.

Max Papart (1911-1994) was acknowledged as a master printer of the 20th century. The Director of the Bibliotheque National in Paris stated that his aquatints were some of the most significant prints being made in France during this era.

His limited editions, many created with texture on handmade papers, have been a part of our inventory for a quarter of a century.

These are some of the museums which have exhibited or have in their collections, Max Papart's art:

Victoria and Albert Museum, London
National Gallery, London
Musee d'Art Moderne de la Ville de Paris
Musee Cantini, Marseilles
Fondation Maeght, St. Paul de Vence
Israel Museum, Jerusalem
Indianapolis Museum of Art
New Orleans Museum of Art
High Museum, Atlanta
Bibliotheque Nationale de l'Arsenal, Paris
Salle de l'Aubette de la ville de Strasbourg
Ft. Lauderdale Museum of Art
Jacksonville Art Museum
Phoenix Art Museum, Phoenix
Syracuse University
U.C.L.A.
Yale University
Museum of New Mexico, Santa Fe
Standing Figure
Original etching with carborundum
Paper size: 25 1/8 x 19 1/2"
Frame size: 38 1/2 x 32 1/2"
Signed by the artist
Numbered 145/150
Sorry, sold for $1,350 framed
and then totally destroyed and discarded by UPS
It was the noted critic André Parinaud who said, "We are going to rediscover Papart as one of the masters of the second cubist generation... "