Home
About
Artists
Contact
Testimonials
Chat Live Now


Click icons above to see recent posts!


Saper Galleries has been a leading source of Boulanger limited editions for more than four decades and is delighted to serve you!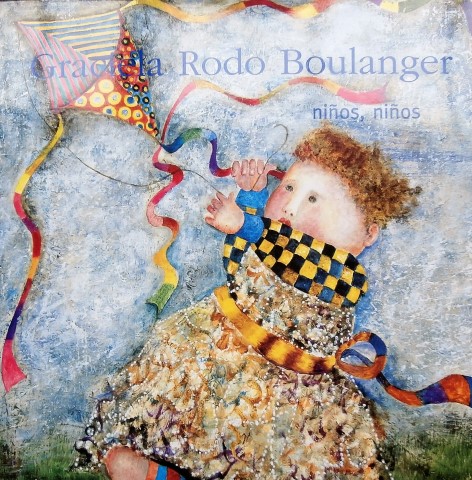 Niņos, Niņos
First edition hardbound book in red portfolio sleeve, 12 x 12"
224 pages
Published by Edmund Newman in 2000
The definitive book on Boulanger's life and work
$200
If you own a Boulanger, you'll want this book as your print is likely illustrated in it.



Musique pour les yeux
Original lithograph, numbered 948/1000
Image size: 9 x 9 1/2"
Sorry, sold for $375



Amour tendresse
Original lithograph, numbered 948/1000
Image size: 9 x 9 1/2"
Sorry, sold for $375



Les belles annees
Original lithograph, numbered 948/1000
Image size: 9 x 9 1/2"
Sorry, sold for $375


Premiers compagnons
Original lithograph, numbered 948/1000
Image size: 9 x 9 1/2"
Sorry, sold for $375

Altamar

Original lithograph, numbered 32/200
Image size: 20 1/2 x 29 1/2"
Sorry, sold for $1,400
Bolivian artist Graciela Rodo Boulanger has been painting children for the last sixty years. Her paintings, full of rotund lyrical figures that exude the kind of happiness that only a child can feel are iconic. Themes of domestic life, dance, and music pervade her work as Boulanger incorporates her own world into her paintings, blurring the line between art and life.

Graciela Rodo Boulanger was born in 1935 in La Paz, Bolivia. From an early age, she was surrounded by art and music due in part to her mother being a concert pianist and her father an art connoisseur. By the age of 17, she had studied both in Chile and Vienna and had exhibited paintings and given piano recitals in over five countries. At 22 she made the difficult decision to abandon her musical studies in order to devote all of her time and energy to painting.

In 1960, Boulanger held an exhibition in Argentina where she became one of the winners of the First Latin American Xylography Competition. (Xylography is a form of woodblock printmaking.)

After viewing an etching by Johnny Friedlaender, she moved to Paris in 1961 where she studied under the renowned artist. During this time, she was able to improve upon her style and technique as well as gain worldwide recognition for her oil paintings, etchings, and lithographs. She first exhibited in the United States in 1966 and began to publish editions of her engravings and within two short years she had started her own etching studio.

In 1979, Boulanger was designated by UNICEF as the official artist for the "International Year of the Child" poster. The Metropolitan Opera of New York commissioned Graciela's poster for their performance of Mozart's, Magic Flute in 1986.

The World Federation of the UN Association chose one of her paintings in 1993 to use on a stamp and as a limited edition print the proceeds from which benefitted endangered species. In 2005, Boulanger left Paris and moved back to her home in La Paz, Bolivia, where her daughter Sandra and her grandchildren have been a constant source of inspiration for her art.

Today her work, which is known worldwide for her stylized treatment of the continuous theme of children, can be seen in museums such as the La Bibliotheque Nationale in Paris, the Modern Art Center in Zurich, and the Museum of Modern Art of Latin America and she has participated in more than 150 exhibitions on all five continents.

Saper Galleries has been acquiring and displaying her work since we opened in 1978.

Enjoy!

Home
About
Artists
Contact
Testimonials
Chat Live Now
Saper Galleries....where excellence is the standard!




433 Albert Avenue East Lansing, Michigan 48823 USA (517)351-0815