Home
About
Artists
Contact
Testimonials
Chat Live Now


Click icons above to see recent posts!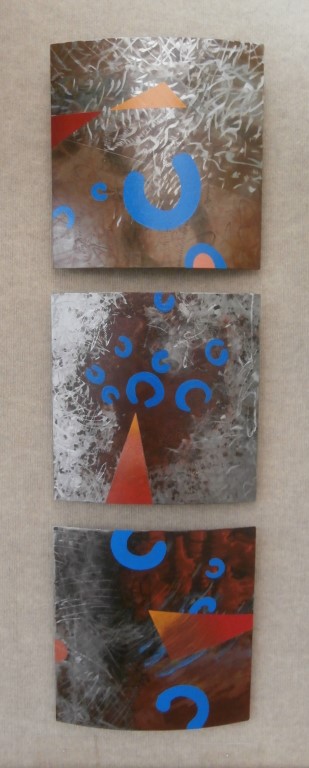 Spatial Grafitti I, II, III


Mixed media on etched, curved, and textured steel with patina
Each with offset mountings to stand out from the wall
15 3/4 x 15 3/4" each
May be displayed vertically or horizontally, spaced as desired
Sorry, sold for $2,800 for the three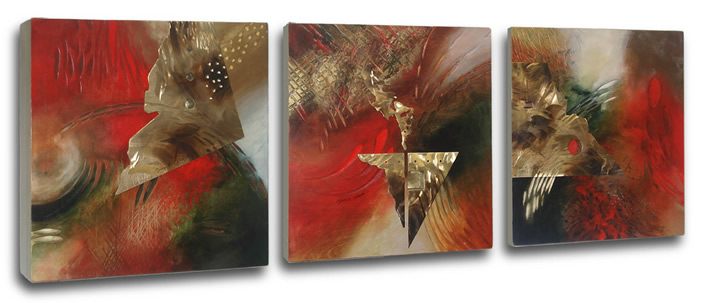 Shards of Bronze




Patinaed bronze and acrylic paint on three wood panel

s


Mixed media construction, 16 x 16" each




Sorry, sold for $5,400 for grouping of three





Untitled
Patinaed bronze and acrylic paint on wood panel
Mixed media construction, 53 x 23"
$4,800



Illume H #36
Unique monotype with collage
Image size: 22 1/2 x 35 1/2"; Framed size: 35 x 48"
$1,125 framed
Untitled
Unique painting on embossed aluminum and wood panel
26 1/2 x 19 3/4"
Sorry, sold for $1,250


Bruce Bleach produces large contemporary abstract works of art in metal, on canvas, wood, and paper. The metal wall sculpture includes etched bronze with patina, mixed-media on embossed aluminum, stainless steel, copper, zinc, and acrylic on wood.

His works are in the collections of large corporations, smaller firms, and many private collections. He has recently incorporated signage and corporate logos in metal wall sculpture and bronze globes.

We also have a selection of his etchings and monoprints. The Smithsonian Institute, Library of Congress has recently selected his etchings for their print collection as part of The Robert Blackburn Printmaking Workshop Collection.

Listed in Who's Who in American Art, his work has appeared in numerous exhibitions. Bleach also serves as an adjunt professor of art, teaching at the Orange County Community College in Middletown, New York. Saper Galleries started showing Bruce Bleach's artwork in 1989 and continues to rely on Bruce for the creation of special commissions for businesses and residences where contemporary and unusual are key requirements.


Multi-dimensional Lansing, Michigan cityscape created for a business using images related to the corporation.
Home
About
Artists
Contact
Testimonials
Chat Live Now
Saper Galleries.... where excellence is the standard!




433 Albert Avenue East Lansing, Michigan 48823 USA (517)351-0815